What are water tanks?
Water is often one of the most precious resources that we take for granted. Some privileged people have their own water readily available for extravagant purposes. But more people have it rough where water is more precious than gold. For those who are fortunate enough to have access to it, it's only fitting that storing it for future use is one way to conserve it. And water tanks are often the answer to this.
Water tanks are large, usually cylindrical containers used to store water. They can be made from various materials, including metal, plastic, and concrete. Water tanks are often used to provide backup water supplies in case of a drought or water outage.
Why you should get a water tank this 2022?
The main purpose of getting a water tank is to store water in it and have it available when water shortage hits. In some parts of the world, they can also be a big help in times of disaster like wildfires. It also provides another option for gardening if you're out of ideas on where to put your next plant or crops.
It's also good for the environment as it can help against flooding. A rainwater tank does this as it catches most of the rainwater. Rainwater goes there instead of it falling to the earth where it causes erosion and flooding. There are also no worries of chemical contamination from Chlorine and other additives. This is because it's only for the sole purpose of storage. There's only fresh and clean rainwater stored for dryer days. It can also be customizable depending on where you are and the circumstances you live in.
If you're not sold on getting a rainwater tank, then getting a first flush diverter may ease it for you. It diverts dirty water away from your tank and reduces the number of contaminants that end up in your rainwater supply. For non-rainwater tanks, a water pump may be a good addition. It helps circulate water in the tank to avoid stagnation. It also helps maintain water pressure and quality.
Bushfires happen in some parts of the country and it's there that water tanks are important. These become indispensable and life-saving assets. Firefighters will be glad for it as an available water source. It's also so durable that the fire itself does little damage to it.
As an excerpt from Bushfire Resilience Inc, "Metal tanks including the very large metal tanks that actually have almost like a pool liner inside them, we've found that they're actually very reliable in a bushfire in holding the water for the duration of the fire, and making it useful for firefighter defence."

What are the different storage tanks available in the market?
There are different materials used in constructing water tanks. A few of them are below with their advantages and disadvantages:
PVC
Pros: Strong, Reliable, Durable, Affordable
Cons: Contains carcinogenic materials, Becomes brittle
Fiberglass
Pros: Durable and Lightweight, Easy to install and clean, Rust and corrosion resistant
Cons: Easily damaged, Not very heat-resistant, unsuitable for hot places, Expensive, Not available in many areas
Polyethylene
Pros: Strong, Lightweight, Durable, Easy to install, Inexpensive
Cons: May contain carcinogenic materials, Susceptible to ultraviolet light , Semi-permeable material
Concrete
Pros: Very Strong, Less likely to leak, Non-porous
Cons: Heavy and difficult to install, Expensive, Not aerated
Concrete
Pros: Strong and Durable, Corrosion-resistant, Easy to clean, Less Expensive
Cons: Difficult to install, repair, and clean, May need special fittings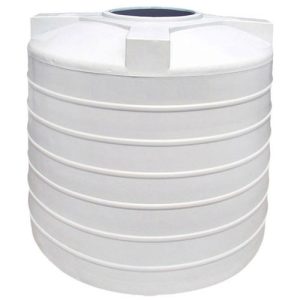 PVC Tanks
A PVC water tank is a storage container made from polyvinyl chloride, a type of plastic. It's a strong and durable material that is resistant to UV light, making it ideal for storing water. PVC tanks are also very lightweight, making them easy to transport and install. It's also more inexpensive than others, making PVC water tanks a more affordable option.
However, there are a few disadvantages to PVC water tanks. One of these is that PVC can react with some chemicals. It's very important to use only food-grade PVC for drinking water storage. Another potential downside of PVC is that it can become brittle over time. This is especially true in colder temperatures. As a result, it is important to inspect PVC tanks regularly for cracks or other damage. Finally, they may contain carcinogenic materials. This means it contains materials that are linked to causing cancer.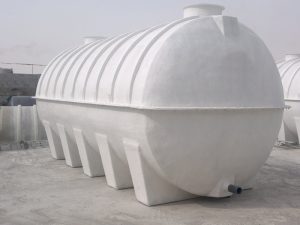 Fibreglass Tanks
Fibreglass is a popular material for water tanks because it is a durable option. They're lightweight which makes them easy to install. They are also resistant to corrosion. Fibreglass won't deteriorate over time like some other materials. They are also resistant to rust which can be a problem with other types of tanks. Finally, fibreglass tanks are also easier to clean compared to others.
However, there are some drawbacks to using fibreglass tanks. One issue is that the material is durable but not very strong, so the tanks can be easily damaged. Besides those, it's not very heat-resistant, so the tank may not be suitable for use in hot climates. Fibreglass can also be more expensive than other types of tanks, and they may not be available in all areas.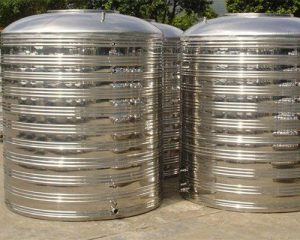 Stainless Steel Tanks
Stainless steel water tanks have several advantages over other types of tanks. They are strong and durable, and they resist corrosion. As a result, they can often last for many years with proper care. Stainless steel tanks are also easy to clean, which helps to keep your water supply safe and healthy. Besides those, they're often less expensive than other types of tanks.
On the flip side, there are also some disadvantages to using stainless steel water tanks. For example, they can be more difficult to install than other types of tanks. This also means they may need special fittings. They can also be more difficult to repair if they become damaged. On top of that, they can be difficult to clean.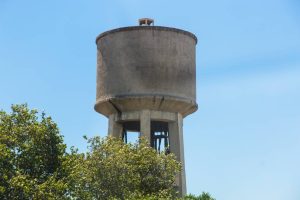 Concrete Tanks
On one hand, concrete is a very strong material, so it can withstand a lot of pressure. This means that your tank will be less likely to leak, even if it's full. And, if you live in an area with a high water table, a concrete tank will be less likely to float out of the ground. Concrete is also a non-porous material, so it won't absorb any of the water it holds. This means your water will stay clean and fresh.
On the other hand, they're quite heavy, so they may be more difficult to install than other types of tanks. Additionally, they can be quite expensive, especially if you need a large tank. Finally, because concrete is non-porous, it doesn't allow for oxygen exchange. This means that your water may stay fresh but not as aerated as it would be in a different type of tank.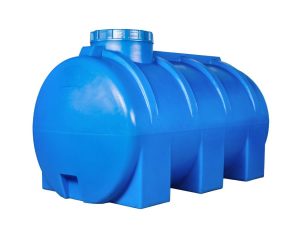 Polyethylene Tanks
Polyethylene is the most common type of plastic used to make water tanks. It's a popular choice for both domestic and commercial water applications. It's strong, lightweight, and durable, which makes it an ideal material for storing water. On the plus side, polyethylene tanks are very easy to install. They're also another inexpensive option, making them a good choice for people on a budget.
However, there are a few things to consider before choosing a polyethylene water tank. Since polyethylene is also a plastic like PVC, it becomes brittle over time and may contain carcinogenic material in them. That means it's important to check them regularly to avoid leaks. It's also susceptible to ultraviolet light so storing them in a shady area is best. Exposure to sunlight over time can cause the material to degrade. This can make the tank less effective at storing water. On top of that, polyethylene is also a semi-permeable material. This means that it can allow small amounts of water vapor to escape. As a result, stored water may not be as fresh as it could be.
Why steel tanks are the best storage solution vs other materials
Aside from the points mentioned above, steel tanks look much better than other materials in terms of appearance. Selected tanks are also made with precision and care in specialised facilities.
The best of these are made from a galvanised and colorbond BlueScope Steel Aquaplate. That means no sacrificial anodes that come with a 20-year BHP (Better Home Products) warranty. It protects against rust and has a food-grade liner, the base is a double-sided Aquaplate, while the walls are single-sided Aquaplate.
Though, the best feature is the absence of carcinogenic materials, unlike plastic ones. Many people enjoy these benefits and even get creative by using the same tanks as garden beds. All of which are guaranteed to last.
What makes Cessnock Tank Works the better option?
There are plenty of water tank providers and installers that you may know. But no other company can be as authentic and efficient as Cessnock Tank Works. Our motto: "We are small enough to be personal but big enough to be professional" means you get the best service you deserve but still feel like you're talking to a friend.
Along with our standard pricing, we can custom make just about any size to fit into any place or any litres you want without any additional charges. We provide only the best Rainwater, Slimline, and Poly tanks for the past 20 years. And now with the addition of Pioneer water tanks, our selection of services has been better than ever.
Our guarantee and quality work have been the cornerstone that makes us the top water tank provider in Newcastle, Gosford, and Upper Hunter NSW.
How do you make water tanks?
Our detailed step-by-step process assures that every water tank that we make and deliver is meticulous down to every sheet of steel.
Once we receive an inquiry, we give a quote based on different factors depending on your needs. Once that's computed, we send the quotations through. With your trust, we receive the payment that we'll use to order the materials. This is where the magic happens as we will now make the water tank that you customised with us which takes about 2-4 weeks. Once the tank is well-made, we'll arrange the delivery to you where we also do cash on delivery (COD) so long as you're satisfied with the results.
FAQs
How much are water tanks?
Pricing varies between Slimlines – 500 L – 10,000 L. Round tanks between 500Liters – 30,000 L. Planters (round/oval) vary between many different sizes.
How big are water tanks?
The average household water tank is around 200 litres, but it can range anywhere from 50 to 10,000 litres
How many water tanks do I need?
It's always a good idea to have at least two water tanks on hand – one for storing fresh, clean water and one for storing water that's been used
How long do water tanks last?
The average lifespan of a water tank is 20 to 30 years depending on the material
How long do hot water tanks last?
Most hot water tanks will last between 8 and 12 years
Rainwater, Slimline and Poly tanks
We have been manufacturing the Highest Quality BlueScope Steel Aquaplate® Rainwater Tanks for over 20 years and we are now selling PIONEER Water tanks in the Hunter Valley and Central Coast.
We also supply a wide range of accessories while providing a professional, friendly & reliable service.
100 to 30,000 Litres ROUND BlueScope Steel Aquaplate® Water Tanks – all standard sizes + custom made to suit your requirements
380 to 7,500 Litres SLIMLINE BlueScope Steel Aquaplate® Water Tanks – all standard sizes + custom made to suit your requirements
20 Year BlueScope Steel Warranty on all Aquaplate® Water Tanks
20 Year Warranty on all Pioneer Water Tanks
12,000 to 250,000 in a standard range or custom up to 2.6 million Litres Pioneer built on site Water Tanks – Rural, Mining, Industrial & Agricultural
Aquaplate® Tanks come complete with mosquito proof inlet strainer & overflow, 25mm rigid fitting and ball valve.
Tank accessories available Eg: pumps, fire pumps, Storz fittings, dual water supply, house filters and diverters, stands and installations, water levels.
Why you need a rainwater tank this 2022
As we move into the new financial year, many of us are looking for ways to be more prepared for any eventuality. And one way to do that is to invest in a rainwater tank.
A rainwater tank can be a great addition to any home, especially in areas where water shortages are a possibility. By having a rainwater tank, you can ensure that you have a steady supply of water, no matter what the weather brings.
There are many rainwater tank manufacturers out there, so it's important to do your research and find the one that best suits your needs. Here are a few things to keep in mind when choosing a rainwater tank manufacturer:
– Capacity: How much water do you need to be able to store? This will depend on the size of your home and the number of people living there.
– Location: Where do you want to install the rainwater tank? Many manufacturers will have different options depending on whether you want an above ground or underground tank.
– Materials: What is the rainwater tank made from? This is important to consider as different materials will have different longevity and maintenance requirements.
– Price: How much are you willing to spend on a rainwater tank? There are many affordable options available, so be sure to shop around before making a decision.
By keeping these things in mind, you can be sure to find the perfect rainwater tank manufacturer for your needs. And with a rainwater tank in your home, you can be prepared for whatever the weather brings.